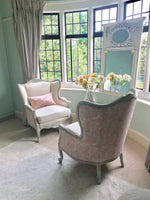 Our Products & Services
Proven-Salle is the home of beautiful furniture and accessories, particularly with a French Countryside and Provencal influence. Our collection of restored items is unique; typically created using French linens, chalk paints and antique waxing techniques.
Please feel free to browse our online shop, or contact us directly to discuss any bespoke furniture-restoration or upholstery requests. 
Thank you for visiting Proven-Salle.
Testimonials
What can I say about this company... simply amazing!!! Couldn't have asked for a better outcome on my French sofa and chairs. Thank you Proven-Salle for turning this around so fast, helping me pick the perfect fabrics and trimming and making it look so, so stunning.

S. Mal
Absolutely in love with my dining table and chairs set which I bought from Proven-Salle. One of a kind and so unique. It really makes my dining room feel special and everyone who looks at it just falls in love with it. I'm so glad I choose their pieces! The table and French Louis chairs are such a statement that I don't need to worry about decorations. It's just complete on its own. Thank you so much for a wonderful and friendly service and for the beautiful pieces that you make! Will definitely be buying more things from here and I 100% recommend them to everyone. Excellent quality and you can just tell that a lot of time and love has been put into each and every item. Thank you.

A. Shah
Absolutely amazing service. Most helpful and friendly lady I've dealt with. Cannot recommend highly enough (and I don't normally give reviews but they went out of their way to help and provide!). In fact, I'm back ordering more stuff already! The furniture was amazing and as described and extremely well protected when delivered. Care and detail to every part of the process!

A. Gore
So, after a lot of searching for not only the right bathroom mirror but also my muse to build the rest of the bathroom around, I came across a beautiful mirror for sale from this page. After pondering over its huge size I purchased and have finally finished my bathroom with the mirror as the centre piece! A fantastic purchase from a lovely lady! Thank you!!!

T. Jayne
Just received a lovely chair. So pleased. Excellent high-end item for a great price. Thank you so much, will definitely be buying from you again. 5 star well deserved.

S. Bowers
100% recommend. Purchased stunning ornate mirror and table lamp and they are absolutely gorgeous! They really compliment our home. Thank you.

S. Reen
This is an excellent unique and vibrant business. They will always go the extra mile to source and delight

S. Urwin
I bought a stunning dressing table from here and a beautiful refurbished stool - completely in love with both of them! The service was spot on - quick to reply and quick to get delivered. If you want beautiful, original pieces that people will be talking about then you won't be disappointed!

G. Lawrence
Wow! You've transformed our bench! Thank you! Quality fabric and quality workmanship. We love it!

S. Younger